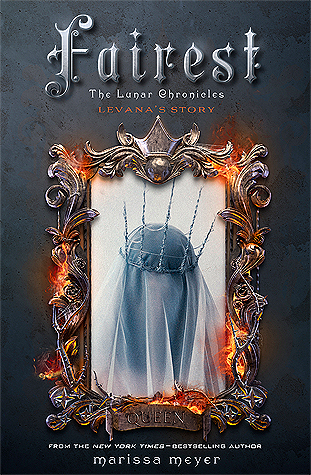 Genre: Young Adult, Fantasy, Dystopian, Science Fiction, Romance
Series: The Lunar Chronicles #3.5
Published: January 27, 2015
Format: Paperback, 220 pages
Source: Early birthday gift 🙂
Rating: 4.5/5 stars
Summary: Mirror, mirror on the wall,
Who is the fairest of them all?
Fans of the Lunar Chronicles know Queen Levana as a ruler who uses her "glamour" to gain power. But long before she crossed paths with Cinder, Scarlet, and Cress, Levana lived a very different story – a story that has never been told . . . until now. [Goodreads]
---
Oh. My. Gosh. This book was pretty freaky for me to read. Levana has always been a really interesting character in my opinion, so reading about how she became this broken and cruel person was very enlightening when it came to understanding her throughout the core four books. This is definitely a must-read if you're into the series, and the mentions/appearances of other characters will help you make the connection easier. I loved reading about Selene and Winter, the princesses in their younger years, and Channary, who is not a nice person and I hated her, but I think that was the point. You also learn a lot about Lunars as a whole, as well as some plot points that become clearer and more prominent in the series as Cinder and her friends try to defeat Levana (This book is set like 20-10 years before the events of Cinder)
"Resources," Levana drawled. "You're telling me that we cannot continue to grow our economy because we are living on a rock."

PAGE 139
Not that I'm giving Levana a get-out-of-jail-free card, but she did have a pretty rough childhood. The story she tells is abusive and seriously pity-worthy. I mean, she didn't have to turn into a murdering sociopath, but that happens sometimes when your older sister tries to kill you and your parents never pay attention to you and no one ever loves you and you're Levana so you're crazy to begin with. Seriously, this chick is so messed up. It's pretty sad. I'm not sure if the purpose of this story was to make me feel bad for Levana or be even more scared of her. Either way, the writing was beautiful, the characters were amazing, and I finished it wanting three more books in this series.
Turning away, Levana blinked back the tears that had sprung up and scrambled to reinstate her illusion. To hide her disfigurements. To pretend that she was beautiful too.

PAGE 13
Be on the lookout for a review of Stars Above, the collection of short stories that consumed my soul, later this week! Happy reading!
Julia 🙂